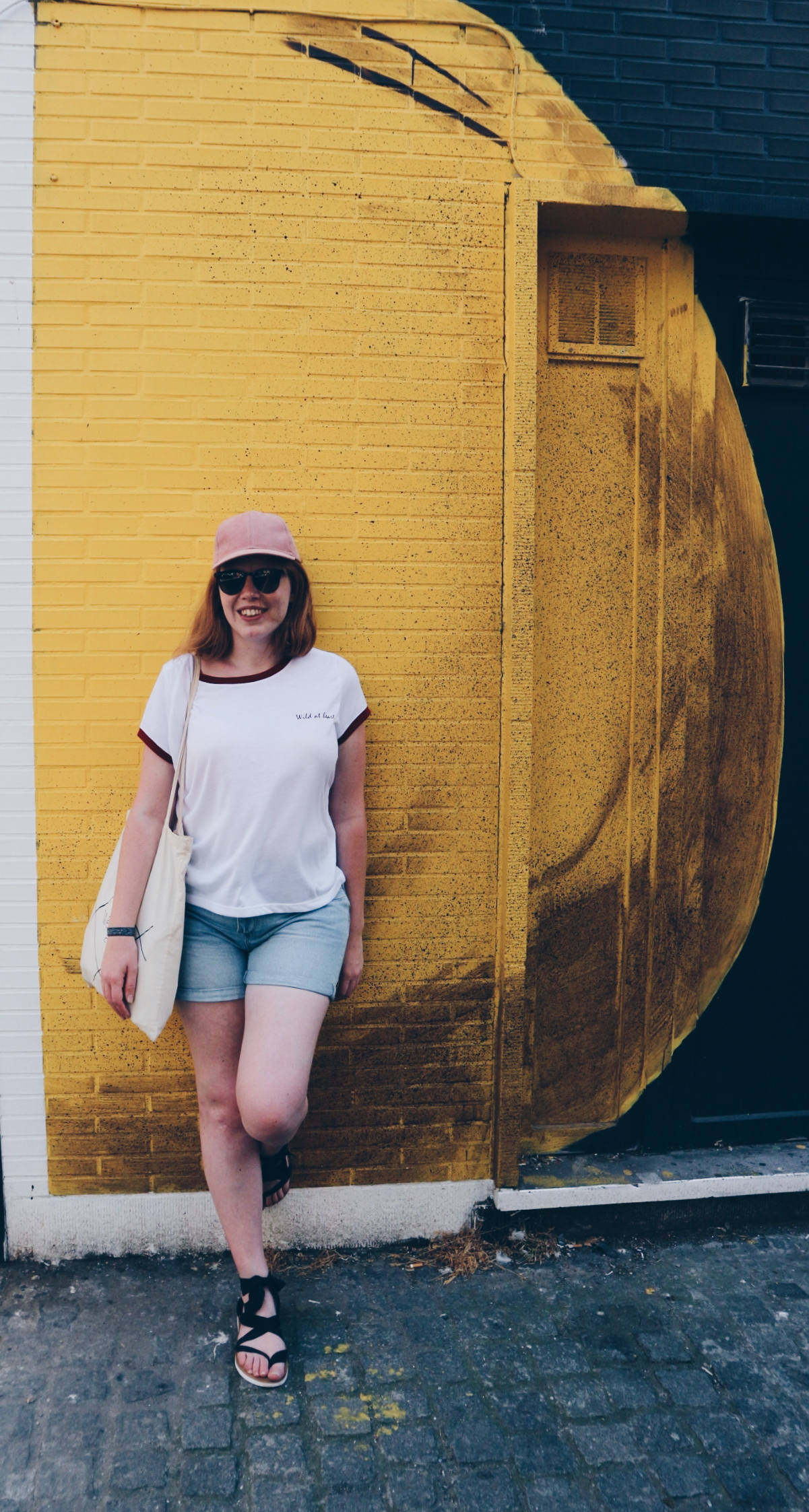 The Crystal Ship on a Sea of Paint
27/06/2017
Outfit details: Rarámuri sandals – Only Play shorts – Even&Odd t-shirt  – Primark cap – Wearable totebag – Komono shades

Oostende, a Belgian coastal city, started a streetart festival called "The Crystal Ship" in 2016. Even though I had visited it last year, they got a bunch of new works so naturally I had to check those out as well. Oostende was already one of my favourite cities when going seaside so this just made it extra fun.
As you may have noticed in my previous post, I'm an avid streetartlover. I like all kinds of art but graffiti has something surprising which I love, like you wouldn't expect great art on the side of a building. Yet I've seen pieces so detailed and well thought-off, they could rival with any of the old masters in a museum. I love how it can make you stop and think while you're just out there, hurrying to your next appointment. And granted, it makes me feel a little special when I spot some amazing piece while others just walk past it. Like it's only for me. It really taught me to keep my eyes open, there's beauty everywhere for those willing to see it – cliché but so true. This also means you can sometimes spot me grinning like an idiot for no apparent reason while running to catch my train. Now you'll know, it's because I spent too much time staring at a piece of streetart.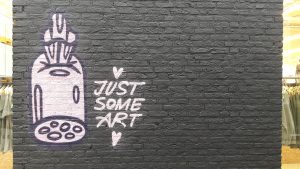 There is some amazing streetart in Belgium and we're lucky to have a couple cities who actively promote it. Ghent has some designated spots where artists can go wild (legally). Check out the spot from my last post, around DOK Noord, or the little graffitistreet in the centre of ghent. The Graffiti vzw has put a map online with legal graffiti places in Belgium. They also organize tours for groups.
I image they are something like the alternative tours I took in London, Berlin and Prague  which were amazing. Loads of great art and you learn so much about the community and local history. Like, the interesting history that's affecting people right now. You get to see the city in a different light, through local eyes. Definitely recommended!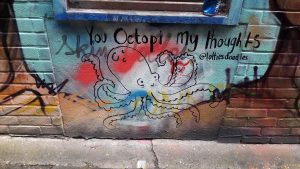 This one is from a while back so it's probably not there anymore. This, my friends, is why I take a thousand pictures when I spot a great piece. –this really is addressed to my poor friends who need to exercise a lot of patience with me when I see some streetart. I know a lot of people like streetart because of its fleeting nature but I actually have some mixed feelings about that. It's such a shame when a beautiful work gets vandalized or just disappears because others painted over it. I can really miss them. Then again, this leads to an never-ending supply of new discoveries, so maybe it is a good thing after all.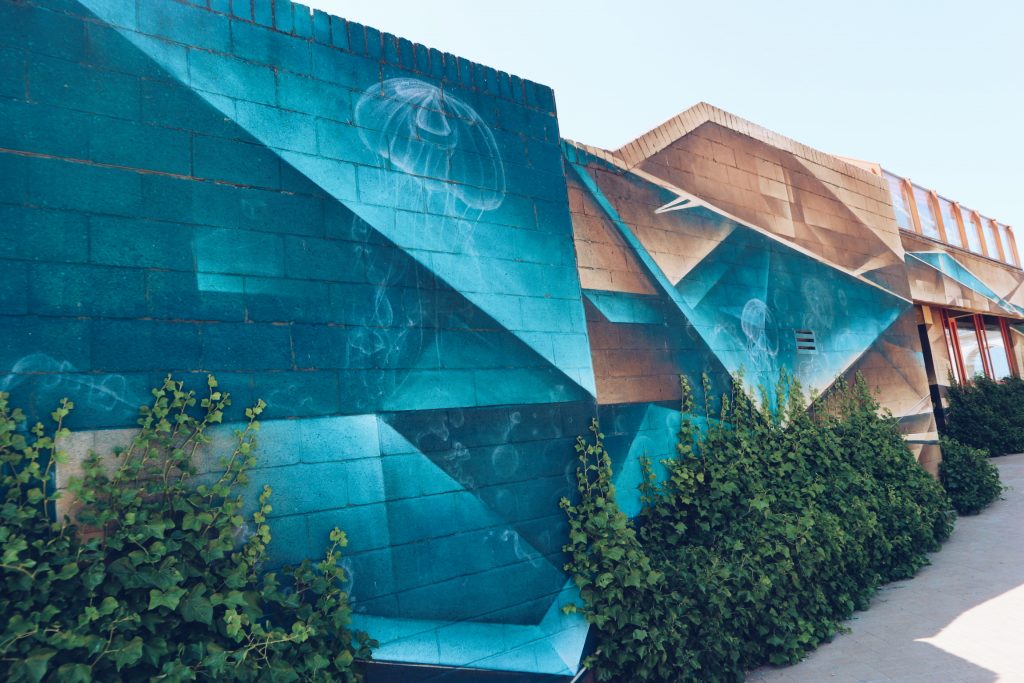 The Crystal Ship is free, you can get a map of the route at the tourism centre. There's a walking and a bicycle tour. Try and get a bicycle, some pieces are pretty far from each other and it proved too much for one afternoon by foot. We missed Pleghm, which seems like a great piece, which means I'll have to go back. The works, even those from last year, are in incredible condition. Spread out over the city are little pieces, like the birds from Bué the Warrior. So you'll just have to wander around, trying to spot them.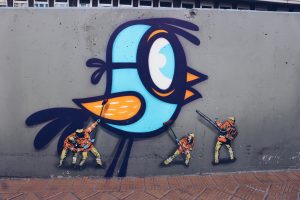 I love when several artists do a kind of collaboration, planned in this case, but even more when an artist contributes something to an already existing piece. The vibe between the birds and garbagemen here is great, it tells a story, which makes it one of my favourites of the tour. I've liked Bué for years –seriously, how cute are those birds- but only recently discovered Jaune through this film. He was
a cityworker and noticed how people tended not to see him, like he was part of the décor of the city. Like streetart. See where he's going with this…
Side note: Bué moved to Mexico City where he sells Belgian waffles now. I've had them at the Gentse Feesten and they're yummy, if you are ever in Mexico City….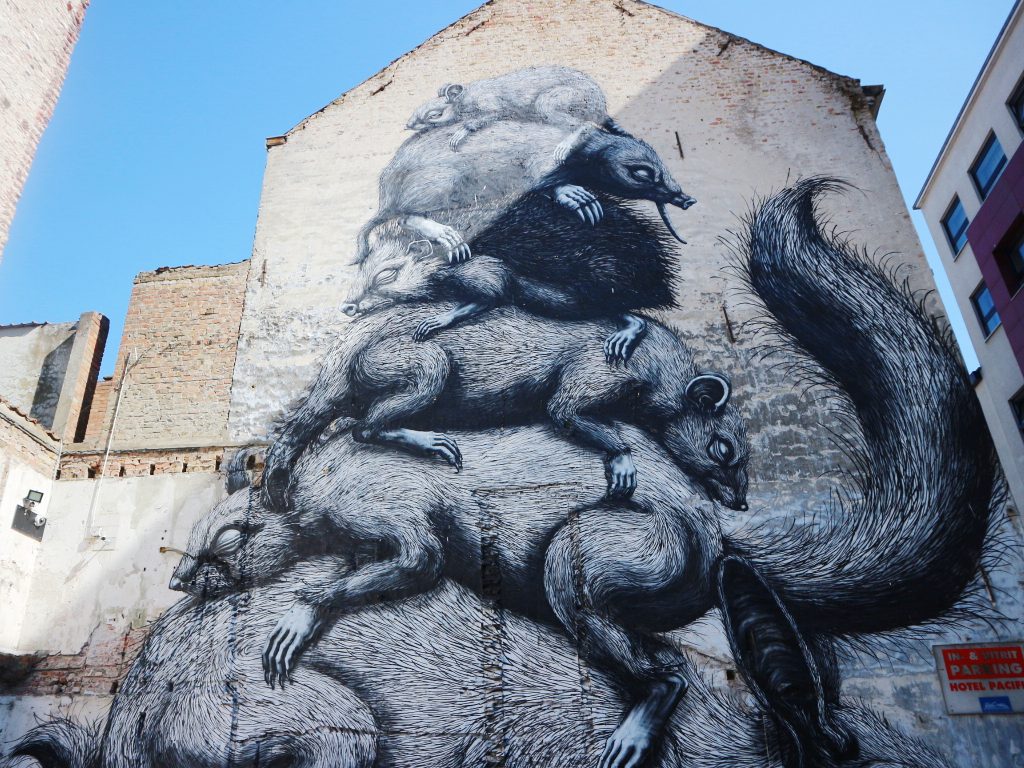 Probably my favourite artist, ROA. I'm really extremely proud he's Belgian! He has amazing pieces in South-Africa, Australia, Poland, London,… And since last year, Oostende. I've only seen the ones in Belgium, two in London and the lizard in Las Vegas in real life. The one in Vegas was amazing, I've spend half an hour just staring at it, revelling in the detail. I probably would have with the others as well except my friends have a habit of tearing me away after like 10minutes. In Vegas, I was alone, so I could indulge and take my time. No worries, there will be a post about the streetart there, you wouldn't expect it but behind the glitter there was some amazing art and it deserves its own post. Every work of ROA hits me because of the detail. The strokes are just perfect even though these pieces are gigantic and it must be hard to keep sight of the bigger picture.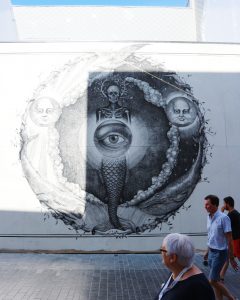 I've known Alexis Diaz since my first alternative tour in London and love how detailed and dreamy his work is. He made a really amazing piece for the 2017 edition of The Crystal Ship in the middle of the busy shopping street of Oostende. (their stores are open on Sunday, which was fun for the shoppers, not so much for desperate girls trying to photograph graffiti) It was impossible to get a picture without people. We did make some realize that hey, there's something on the wall there… Shame we didn't have time to wait until the lighting was better, you'll just have to go check it out yourself.
For those of you who don't share my love for streetart, Oostende still has a lot to offer. I've been to the casino a couple times, dressed up real fancy -totally unnecessary because most people just sit there in sweatpants but so. much. fun! You can do plenty of shopping, make sure to check out Lily. There's the theatre festival in summer. And obviously, there's the sea. Don't make the mistake of staying on the beach in front of the centre but walk till you are in front of the Termae Palace, it's usually less crowded. To get to the best part though you'll need to take the ferry. Don't worry, it's free. On the other side the beach is calm and there's a beautiful pier. They have a great website showcasing all the reasons to visit this wonderful city.
Foodie tip: Belle Du Jour
PS: Feeling more and more like a –dare I say it- real blogger. You can now even follow me through bloglovin! Perfect if you don't want to miss any updates. Or just follow me on Instagram or, you know, BOTH. My inner social media addict will be super grateful!
Love,
E.
Bewaren
Bewaren
Bewaren
Bewaren
Bewaren
Bewaren
Bewaren
Bewaren
Bewaren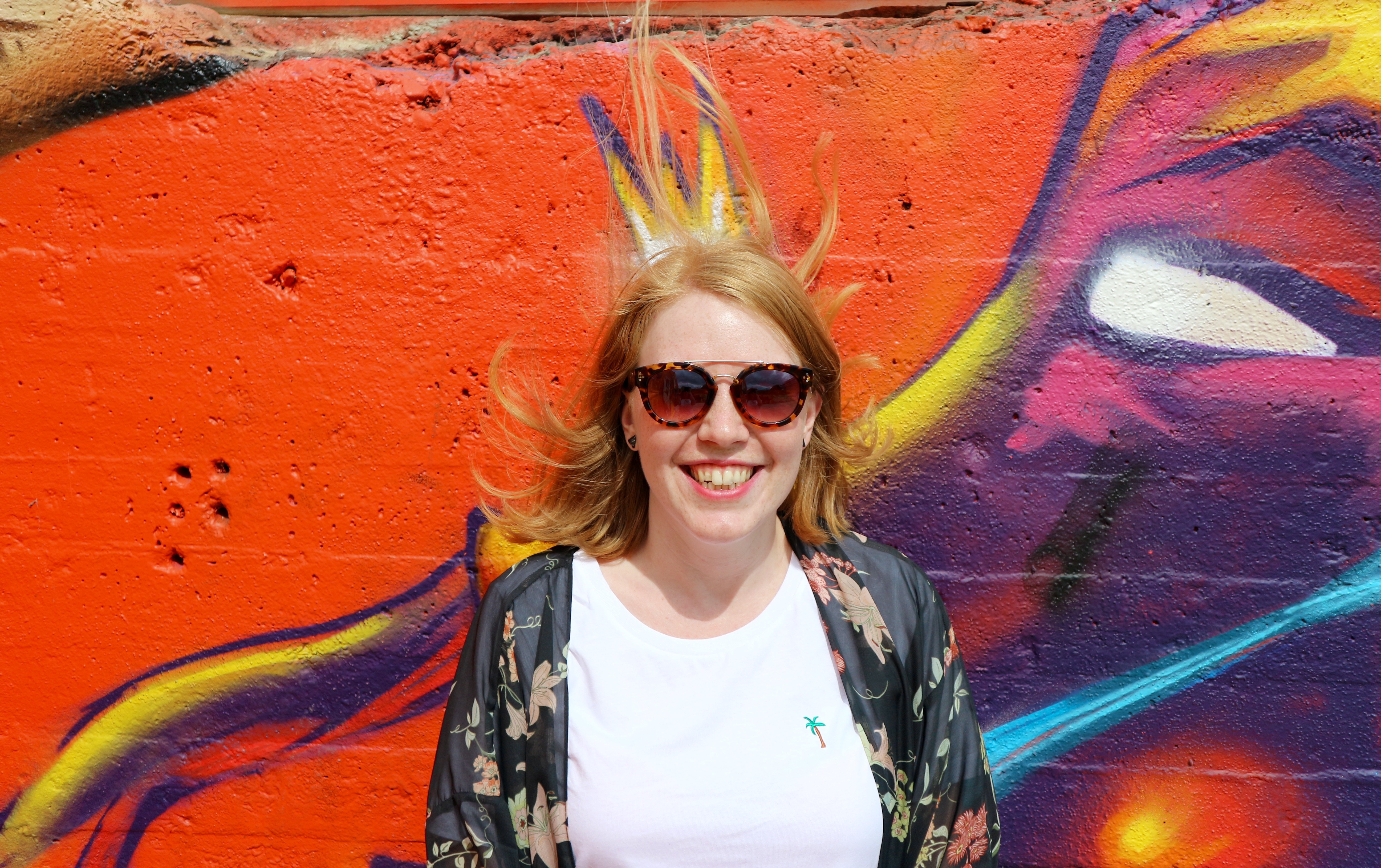 You May Also Like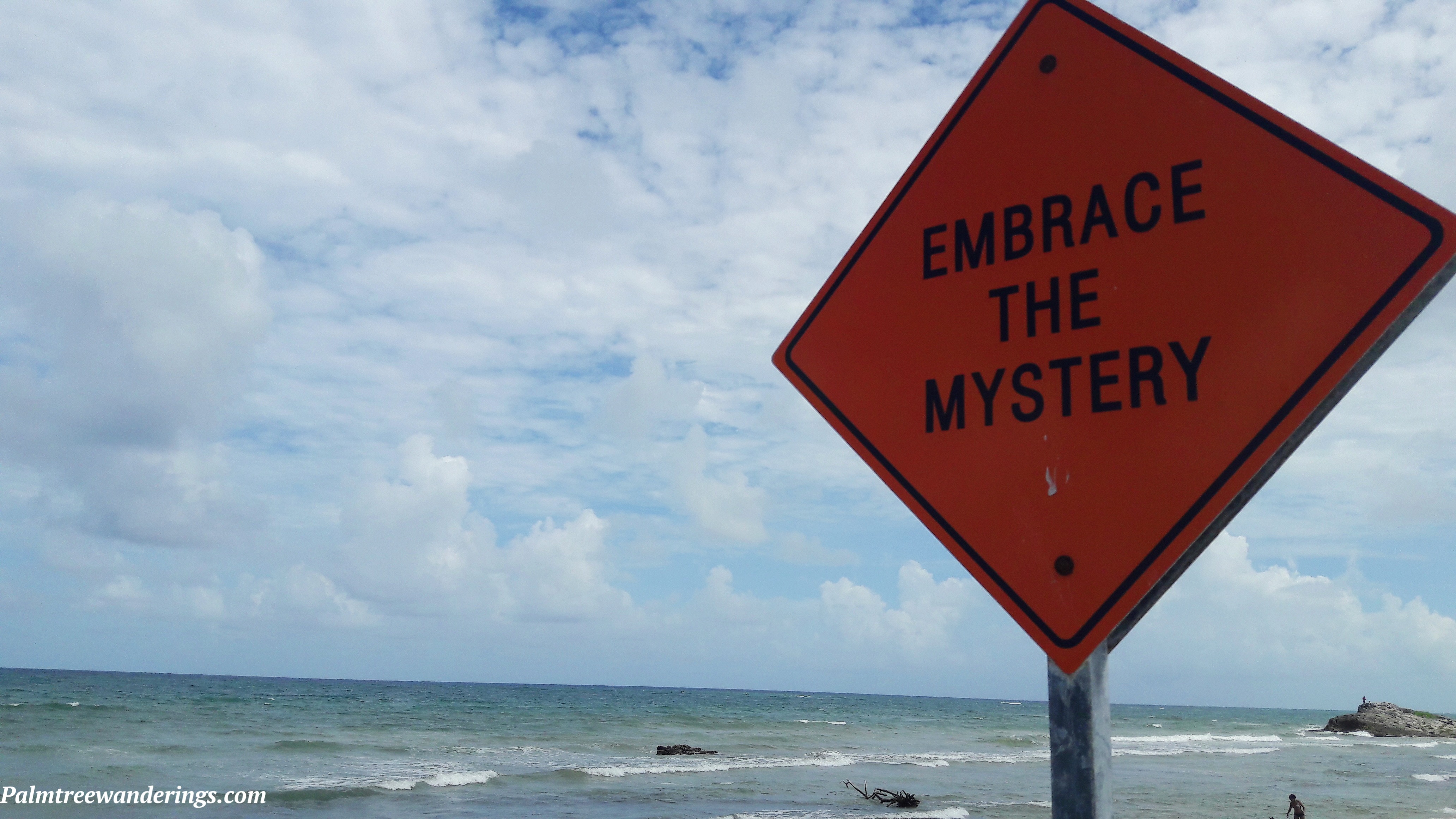 05/09/2017
29/08/2017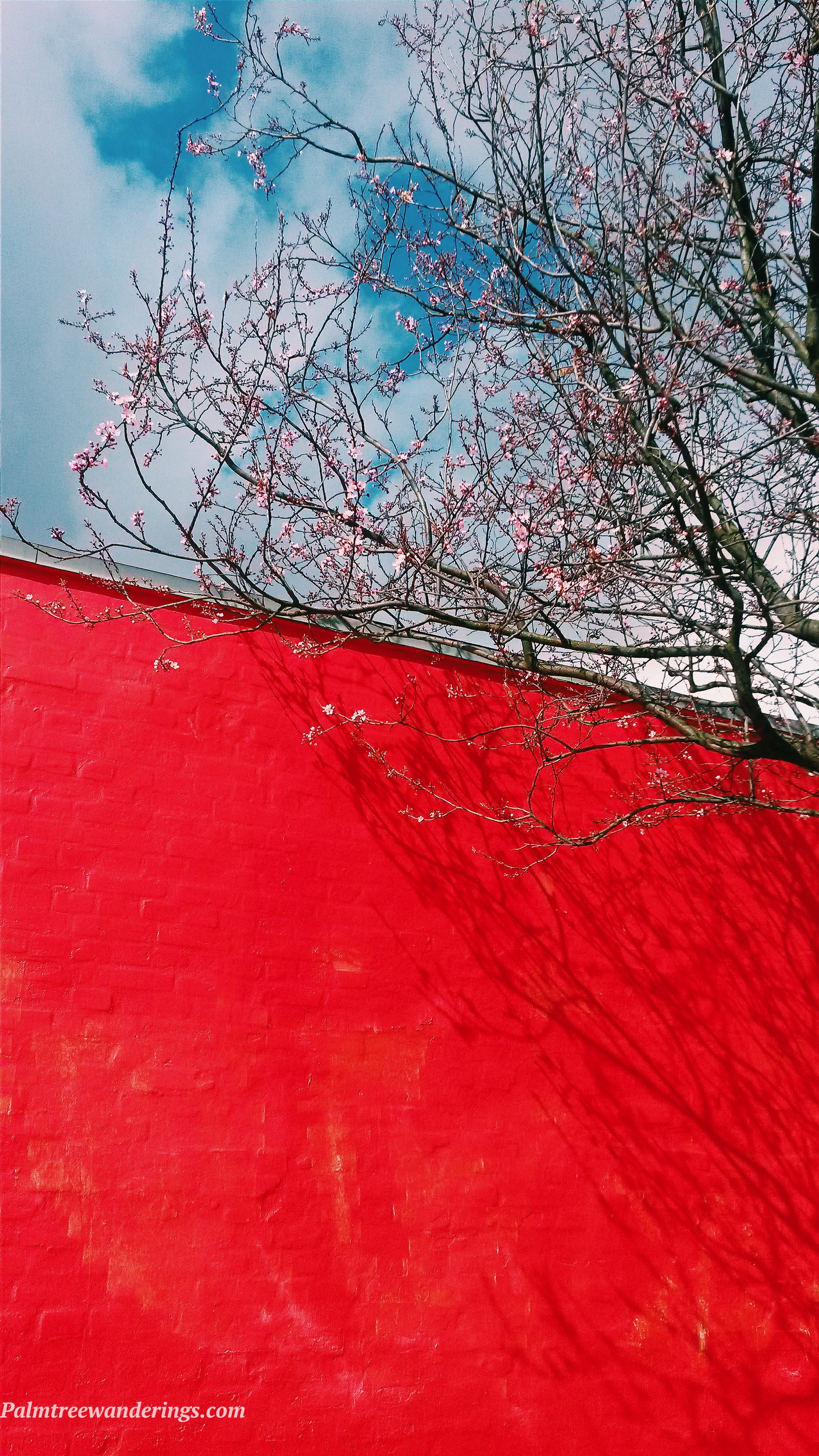 03/04/2018